Paris American
Classes of 1952 - 1971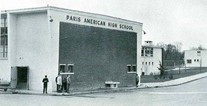 *** San Antonio 2014 !!! ***
Registration deadline is September 18, 2014
The room block at the Menger Hotel is available until September 25, 2014
Don't get left out...make your arrangements NOW!
ANNOUNCEMENTS
On Saturday, October 25, 2014 couples attending the Paris American High School 2014 Reunion will have the opportunity to Renew their Wedding or Commitment Vows at a special ceremony being conducted by The Reverend Jean Laurin (PAHS '61).
If interested, you may contact Jean through the message center of the PAHS web site or directly at misfitmountaincorp@msn.com or cell phone: 760-831-4676, or home address: 1565 Turtle Creek, Beaumont, CA 92223-7305.
Some background on Jean's ministry...click here
Click on the Eiffel Tower and you will be on top of it.
Move your mouse pointer to go around...