Paris American
Classes of 1952 - 1971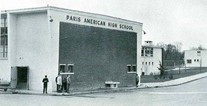 WHERE WE LIVE
Who lives where - click links below to find out.

31 live in Alabama (USA)
3 live in Alaska (USA)
35 live in Arizona (USA)
5 live in Arkansas (USA)
2 live in Armed Forces Pacific (USA)
136 live in California (USA)
48 live in Colorado (USA)
4 live in Connecticut (USA)
4 live in Delaware (USA)
11 live in District Of Columbia (USA)
127 live in Florida (USA)
54 live in Georgia (USA)
17 live in Hawaii (USA)
4 live in Idaho (USA)
15 live in Illinois (USA)
9 live in Indiana (USA)
5 live in Iowa (USA)
8 live in Kansas (USA)
11 live in Kentucky (USA)
9 live in Louisiana (USA)
6 live in Maine (USA)
50 live in Maryland (USA)
22 live in Massachusetts (USA)
14 live in Michigan (USA)
9 live in Minnesota (USA)
6 live in Mississippi (USA)
15 live in Missouri (USA)
3 live in Montana (USA)
12 live in Nebraska (USA)
27 live in Nevada (USA)
4 live in New Hampshire (USA)
18 live in New Jersey (USA)
26 live in New Mexico (USA)
26 live in New York (USA)
51 live in North Carolina (USA)
19 live in Ohio (USA)
17 live in Oklahoma (USA)
31 live in Oregon (USA)
25 live in Pennsylvania (USA)
7 live in Rhode Island (USA)
25 live in South Carolina (USA)
19 live in Tennessee (USA)
143 live in Texas (USA)
9 live in Utah (USA)
5 live in Vermont (USA)
1 lives in Virgin Islands (USA)
153 live in Virginia (USA)
35 live in Washington (USA)
3 live in West Virginia (USA)
12 live in Wisconsin (USA)
2 live in Wyoming (USA)
1 lives in Nunavut (Canada)
878 live in USA
1 lives in Canada
1 lives in Australia
1 lives in Belgium
1 lives in Belize
1 lives in Costa Rica
1 lives in Germany
1 lives in Italy
1 lives in Japan
1 lives in Malaysia
1 lives in Mexico
1 lives in Norway
1 lives in Switzerland
2 live in United Kingdom
1 lives in Venezuela
834 location unknown




Show Classmates on map
UPCOMING BIRTHDAYS

Show More
Our thoughts and prayers go out to the good citizens of Paris, and all of France. We are all grateful for the wonderful memories and experiences we share.

ANNOUNCEMENTS
I remember the very kind expressions from our French neighbors in St. Germain-en-Laye the day Kennedy was assassinated in 1963. Kindness from people we had never met but who knew that an American family lived right up the street.
Time for reciprocity. I plan to stop by the French Consulate in San Francisco this week and do so, and invite all of you to do likewise.
If an in-person expression is impossible, a condolence note would certainly be appropriate, either to the French Embassy (Ambassade de France, 4101 Reservoir Rd NW, Washington, DC 20007) or to one of the French Consulates in the US:
http://ambafrance-us.org/spip.php?article330
Mike Kanze


Click on the Eiffel Tower and you will be on top of it.
Move your mouse pointer to go around...