Paris American
Classes of 1952 - 1971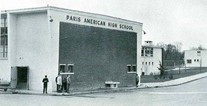 New video!!! Go to the "Some Fun Links" page to see a video of the first football game between PAHS and Poitiers, discovered by Carol Davy Maki
ANNOUNCEMENTS
I sent an email to all classmates yesterday. There were quite a few bouncebacks, especially those to AOL addresses. Please make sure you set your email to receive messages from HeadHoncho@ParisAmericanHighSchool.com
A reunion is scheduled March 16-20, 2016 at http://www.wyndhamlakebuenavista.com/ Which is the same place we had it years ago when it was called the Regal Sun Resort. It has been completely redone. We have the same hospitality rooms on the 7th floor. There will be a slightly different schedule that will come out later. DO NOT MAKE RESERVATIONS as the room block has yet to be set up.
This will be the last reunion unless someone else steps up to bat. The current committee has been doing this for long enough and a lot of us are "aging out". Too many are no longer willing to travel and the Washington, DC area has priced itself out of the market with $140 rooms plus tax, expensive banquets, unbearable traffic, etc. Many in the DC area just attend the banquet and never stay for the other events.
This year, we checked on a couple of properties in Palm Springs, Reno, Cincinnati area, north of Atlanta, New Orleans, and Asheville in addition to DC. It came down to a central location for all of us to bring our families, grandkids, etc. AND to get the Yankees out of the snow for a change! (IF they can get out of their airports!). Thanks to all of you that gave us input ideas for places for a reunion!
Please try to make this one since it really will be considered the last one.
We will be coming out with a rough schedule in the near future. In the meantime, here are some sites of interest to all since we are near Downtown Disney (walking distance). The Windham site has several others.
https://disneyworld.disney.go.com/destinations/downtown-disney/
Click on the Eiffel Tower and you will be on top of it.
Move your mouse pointer to go around...