Paris American
Classes of 1952 - 1971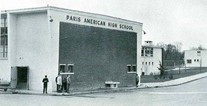 *** Mark your calendars!!! ***
Reunion October 22-26, 2014 to be held at
the Menger Hotel, San Antonio.
More information will be forthcoming as I receive it.
If you do not have a picture on your profile, please notify
Janet Geary Baker, at
janetgbaker@islc.net
ANNOUNCEMENTS
Priscilla Coe, who has yet to get a medal for being married to Mickey, has been promoted.