Paris American
Classes of 1952 - 1971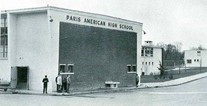 WHERE WE LIVE
Who lives where - click links below to find out.

31 live in Alabama (USA)
4 live in Alaska (USA)
35 live in Arizona (USA)
6 live in Arkansas (USA)
1 lives in Armed Forces Pacific (USA)
133 live in California (USA)
50 live in Colorado (USA)
4 live in Connecticut (USA)
5 live in Delaware (USA)
11 live in District Of Columbia (USA)
133 live in Florida (USA)
57 live in Georgia (USA)
17 live in Hawaii (USA)
4 live in Idaho (USA)
15 live in Illinois (USA)
9 live in Indiana (USA)
5 live in Iowa (USA)
8 live in Kansas (USA)
11 live in Kentucky (USA)
8 live in Louisiana (USA)
6 live in Maine (USA)
50 live in Maryland (USA)
21 live in Massachusetts (USA)
14 live in Michigan (USA)
9 live in Minnesota (USA)
5 live in Mississippi (USA)
15 live in Missouri (USA)
3 live in Montana (USA)
12 live in Nebraska (USA)
27 live in Nevada (USA)
3 live in New Hampshire (USA)
17 live in New Jersey (USA)
26 live in New Mexico (USA)
26 live in New York (USA)
51 live in North Carolina (USA)
19 live in Ohio (USA)
18 live in Oklahoma (USA)
31 live in Oregon (USA)
25 live in Pennsylvania (USA)
1 lives in Puerto Rico (USA)
7 live in Rhode Island (USA)
26 live in South Carolina (USA)
19 live in Tennessee (USA)
139 live in Texas (USA)
9 live in Utah (USA)
5 live in Vermont (USA)
1 lives in Virgin Islands (USA)
153 live in Virginia (USA)
36 live in Washington (USA)
3 live in West Virginia (USA)
12 live in Wisconsin (USA)
2 live in Wyoming (USA)
1 lives in Nunavut (Canada)
900 live in USA
1 lives in Canada
1 lives in Australia
1 lives in Belgium
1 lives in Belize
1 lives in Costa Rica
1 lives in Germany
1 lives in Italy
1 lives in Japan
1 lives in Malaysia
1 lives in Mexico
1 lives in Norway
1 lives in Switzerland
2 live in United Kingdom
1 lives in Venezuela
827 location unknown




Show Classmates on map
UPCOMING BIRTHDAYS

Show More
ANNOUNCEMENTS
Start making your plans now for the next PAHS reunion, Paris In The Northwest.
Your reunion committee is in the early planning stages for an all-classes reunion during the spring, summer, or fall of 2018, in Portland, Oregon. Tentative plans call for a Thursday – Sunday reunion, with both group activities and time for your own explorations in one of the nicest parts of the Pacific Northwest.
We will publish further details as plans become firm.