Paris American High School, Paris, France

ANNOUNCEMENTS
There's more to Paris than the Eiffel Tower and cheese!
Go to the end of this page.
PAHS 2021 France Reunion attendees,
During the January 16 Reunion Committee meeting, we decided to delay the collection of the second payment installment which was originally due this March 31 and roll it into the final installment amount. The final installment and full payment amount will now be due on June 21.
Everyone currently planning to attend paid the non-refundable $250 per person deposit last year.
The per person final payment amounts now due on June 21 are based upon two people sharing the same room. Single occupants will pay a supplemental charge. The double occupancy payment amounts are as follows:
Paris Only - $1,175.00 less the initial deposit of $250 = $925.00
Provence Only - $2,450.00 less the initial deposit of $250 = $2,200.00
Paris and Provence - $3,425.00 less the initial deposit of $250 = $3,175
Latitudes Travel & Tours will invoice each attendee party later this year, with the total final payment due by June 21. If you have questions about the status of your account with Latitudes, please contact Ms. Jo Beichler at Latitudes:
Latitudes Travel & Tours
PO Box 57
Troy, ME 04987
Phone: 207-948 2812 Fax: 207-948-2819
Email: info@latitudes-travel.com
Your Reunion Committee continues to monitor the situation with regular meetings and consultation with Latitudes. We remain optimistic that our reunion will take place this coming September and that it will be both fun and safe for all.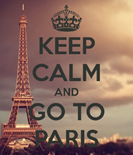 Your Reunion Committee:
Bart BARTLETT '57
Dave BURLIN '65
Mike KANZE '65
Chris KELLEY Lowell '66
Bev TYLER '66
Barbara WALKER Bartlett '69
Bonne Année!!
We want your pix!
Your 2021 PAHS Reunion Committee is collecting photos and other digitized memories for a multimedia/photo collage that the American School of Paris has asked for and which they will prepare and project during our visit with them.
While we are scouring the yearbooks for good stuff, we also would like to have whatever personal memories you would like to share. We especially want photos of events and happenings (sports events and dances, for example) and venues (Teen Club, out and about in Paris, etc.) that evoke the good memories we all have of our time in Paris and our good old PAHS days. (By contrast we are less interested in photos just showing individuals or group without some Paris or PAHS context.) It is not necessary to identify the names or positions of people in photos that are part of the memories you might share, as the names of American Teens from the '50s & '60s won't mean anything to the students at ASP.
Photos or scans of scrapbook memorabilia are also welcome. A photo of those ticket stubs from the Beatles concert at the Olympia or of the program for your class Prom or a photo of you and some classmates sitting at a sidewalk café enjoying life in Paris are the kinds of things that will make the multimedia collage really sparkle.
You need not be planning to attend the 2021 Reunion to help us, so don't let that stop you. Share your memories, help tell the story of an American teen in Paris and share your other "stuff", whether or not you're coming.
So, start digitizing (photo or scan) your best memories and send them to Committee member Bart BARTLETT '57 by 30 April 2021. He can accept almost any format - .JPEG, GIF, PDF, video, scans, or copy and paste into a word document. You can email him the memories you want to share with ASP or send them by text, or call him and arrange for a snail mail drop to his door step. We hope you will help us make beautiful memories come alive for everyone!
Bart's contact information is:
Email: bartbartlett3@att.net Cell: 703-328-3444
Thank you!
Your Reunion Committee
Bart BARTLETT '57
Dave BURLIN '65
Mike KANZE '65
Chris KELLEY Lowell '66
Bev TYLER '66
Barbara WALKER Bartlett '69
2021 FRANCE REUNION
September 26 - October 4, 2021
Fellow Pirates,
As you know, COVID-19 forced us to "punt" our France 2020 Reunion into 2021. While most of the 2020 attendees rolled their reservations over to the 2021 dates, several chose not to.
This means there are a few new openings for France 2021 for both the Paris Pre-Trip (September 26-28, 2021) and the Provence Main Trip (September 29 – October 4, 2021).
If you missed reserving for the 2020 Reunion but would like to join us in 2021, here's your chance! We will fill these openings on a "first come" basis, so don't delay.
Go to the PAHS web site (https://www.parisamericanhighschool.com/), log in, and click on both the Registration and PYMT Schedule and CC AUTH links under the Reunion 2021 tab. Copy, print, and complete these forms, and get them to Latitudes Travel & Tours. Please do this by October 31, for your initial $250 / person deposit (non-refundable).
Questions? Please contact Jo Beichler at Latitudes Travel & Tours, Phone: 207-948-2812, Fax: 207-948-2819, email: info@latitudes-travel.com
We look forward to seeing you en France in 2021!
Your Reunion Committee,
Bart BARTLETT '57
Dave BURLIN '65
Mike KANZE '65
Chris KELLEY Lowell '66
Bev TYLER '66
Barbara WALKER Bartlett '69
---
ENJOY!
22 Cool Paris Facts Most People Go Their Whole Life Without Knowing
By Evie Carrick, Buzz feed
There's more to the City of Lights than the Eiffel Tower and cheese.
Paris has its own Statue of Liberty.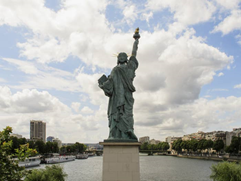 The Statue of Liberty might have been gifted to the US from France in 1886, but a few years later, the American community in Paris gave the French a quarter-scale replica, which now sits on a man-made island in the Seine.
When the Eiffel Tower was first being constructed, Parisians despised it — and some still do.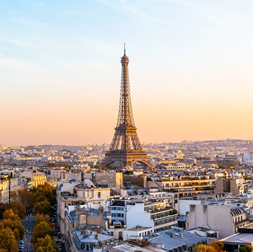 There's an annual competition to determine the best baguette in Paris. And, as you'd imagine, it's serious business.
Every year since 1994, Le Grand Prix de la Baguette takes place: a competition that relies on a jury of baking pros and six randomly chosen Parisians to determine the city's best baguette. These lucky bread lovers get to eat baguettes all day long — judging each loaf for taste, texture, smell, and aesthetics — and the winning boulangerie (bakery) gets a line around the block and national notoriety.
Bonus bread fact: According to the BBC, the country's official Observatoire du Pain (Bread Observatory — told you they love their bread) reports that the French consume 320 baguettes every second, which works out to be an average of half a baguette per human, per day. Pass the butter, please!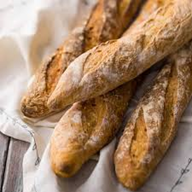 Paris is broken up into 20 arrondissements (or neighborhoods) that are numbered to resemble the spiral of a snail shell.
Starting with the first arrondissement, which is found in the center of the city near the Seine River (and houses the Louvre), the arrondissements are numbered in a clockwise spiral. If you zoom out, the placement of arrondissements resembles the swirl of a snail shell, which just so happens to be one of the foods associated with the French.
The city's first café has been in business 90 years longer than the US has been a country.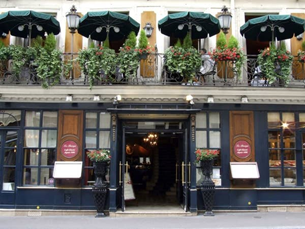 For more interesting facts: apple.news/ATwdA5fQxTdKRb04wqADmnA
Thanks to Dave Burlin, class of '65 for the contribution.
All: I started out to write a short family geneology and ended up with a reality thriller called TIMEFLASH of over 480 pages. There is a good slug about PAHS times and antics between 55-58. If you are interested you can find a summary at: https://booklocker.com/books/11061.html OR at Amazon Books under Autobiography Best to All-Johnny T., Class of 1958
PAHS.....Saw this article and thought some would enjoy it.

http://nashvillepublicradio.org/post/meet-mr-frank-nashvilles-91-year-old-substitute-teacher#stream/0