Paris American
Classes of 1952 - 1971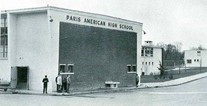 ANNOUNCEMENTS
Head honcho. Hate that you have retired. Thank you so much for all that you have done in keeping the PAHS alumni in communication with another. We took you for granted. Thank you.
As the self appointed PAHS photographer, I have hundreds of black and white photos that I took while attending PAHS 1958-60. If anyone would like some photos emailed to you, just let me know.

Dean Phelan
deanp@charter.net
PAHS.....Saw this article and thought some would enjoy it.

http://nashvillepublicradio.org/post/meet-mr-frank-nashvilles-91-year-old-substitute-teacher#stream/0
Start making your plans now for the next PAHS reunion, Paris In The Northwest.
Here is a summary of what the Committee has decided so far…
Thursday Sept 27 through Sunday Oct 1, 2018
AC Hotel, downtown Portland, OR. Located close to Portland's Max light rail line.
Room rate: $159.00 plus tax. This rate will be extended three days before and three days after reunion dates depending upon availability.

We have identified a lower-cost lodging alternative for the budget-conscious, located away from the downtown. You would need to make your own way to the AC Hotel for group activities based there.
Group activities include a welcome reception on Thursday evening, a banquet dinner on Saturday night at the nearby World Trade Center, and a drop-in hospitality suite in the AC Hotel. The cost of these is yet to be determined
Thank you,
PAHS Reunion Committee