Paris American
Classes of 1952 - 1971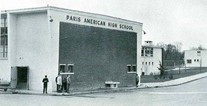 ANNOUNCEMENTS
The loss of a child brings unexpected sadness. We never expect our children to die before we do and certainly not at a young age. Our hearts and prayers go out to those who have suffered a loss as such, especially today as John Taylor Langhammer says goodbye to his son Richard W. "Ricky" Langhammer,49, of Fisherville, KY. RIP
PAHS.....Saw this article and thought some would enjoy it.

http://nashvillepublicradio.org/post/meet-mr-frank-nashvilles-91-year-old-substitute-teacher#stream/0
Start making your plans now for the next PAHS reunion, Paris In The Northwest.
Please complete the survey form posted (page link on the left) so that we better assess interest/ideas/attendance.
Thank you,
PAHS Reunion Committee
For those of you who moved to SHAPE Belgium from Paris, the following event is taking place in June 2017, in Belgium.
SHAPE Alumni 50th Anniversary (in Belgium)
The SHAPE Alumni Association has prepared a spectacular weekend of events from Friday, June 30th 2017 to Monday, July 3rd, 2017, and you are cordially invited!
Welcome Home Evening
Friday, June 30th, 2017
18:00
Venue at SHAPE Event Center (IC Club) & Big Tent
High School Homecoming Parade with Marching Band
Welcome drink, speeches and information corner
Concert followed by 50 years of Music
International Food trucks
Bonfire

Spartan Olympics
Saturday, July 1st, 2017
09:30-16:00
Opening Ceremony with Olympic Torch on the Sports Track
Venue at the Athletics Track, Main Gym, Pool, Soccer/Baseball Fields, Bowling Alley (Pizza Bowl), Sports Pavilion
Sports: Basketball, Volleyball, Swimming, Soccer, Baseball, Bowling and 5K fun run
Open to All Alumni and SHAPE Community
Olympic sports Initiation for Kids
Presence of Olympians and sports personalities

Alum'Nite
Saturday, July 1st, 2017
19:30
Venue: SHAPE Club (Officers' Club)
Dress Code: Formal
Gala Dinner and Dance with Special Honorary Guest
SHAPE International Band
Fireworks

Remembrance Day
Sunday, July 2nd, 2017
11:00
Venue: Collegiale St- Waudru in Mons
Church celebration in memory of fallen SHAPE Alumni
School Open day with expositions, yearbook display, school Museum
Inauguration of the SHAPE Sports Hall of Fame
Evening Entertainment "Spartan's got Talent"
BBQ at the SHAPE School Cafeteria

Sightseeing Day
Monday, July 3rd, 2017
09:00-?
Organized visits to Mons, Bruxelles, Bruges, Gand, Anvers, Paris
Belgian Breweries
Local Battlefields
School remains Open with expositions, yearbook display, school Museum

Go to shapealumni.com for more information, and to register for this fantastic celebration.

Note: You must register (or re-register) on the alumni website (with very specific password setup requirements) before you can register for the event.