Paris American
Classes of 1952 - 1971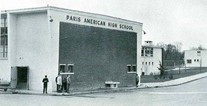 ANNOUNCEMENTS
From Molly MINOR, via Ron WINTER earlier this week. Consider this a "save the date" notice if you think you might attend.

I will pass along more info when I receive it.

"Hi guys
there will be a memorial in El Paso the weekend of the 22nd to 25 September my cousins are organizing it and just want you to know in case you're interested talk to you later."
Any one interested
I have located Emile Mika our assistant principal. Waiting to see if I hear back
No way could have forgotten me and some others who will remain secrets. For now!
Kent " Big Butch " Crozier
PAHS.....Saw this article and thought some would enjoy it.

http://nashvillepublicradio.org/post/meet-mr-frank-nashvilles-91-year-old-substitute-teacher#stream/0
Start making your plans now for the next PAHS reunion, Paris In The Northwest.
Here is a summary of what the Committee has decided so far…
Thursday Sept 27 through Sunday Oct 1, 2018
AC Hotel, downtown Portland, OR. Located close to Portland's Max light rail line.
Room rate: $159.00 plus tax. This rate will be extended three days before and three days after reunion dates depending upon availability.

We have identified a lower-cost lodging alternative for the budget-conscious, located away from the downtown. You would need to make your own way to the AC Hotel for group activities based there.
Group activities include a welcome reception on Thursday evening, a banquet dinner on Saturday night at the nearby World Trade Center, and a drop-in hospitality suite in the AC Hotel. The cost of these is yet to be determined
Thank you,
PAHS Reunion Committee